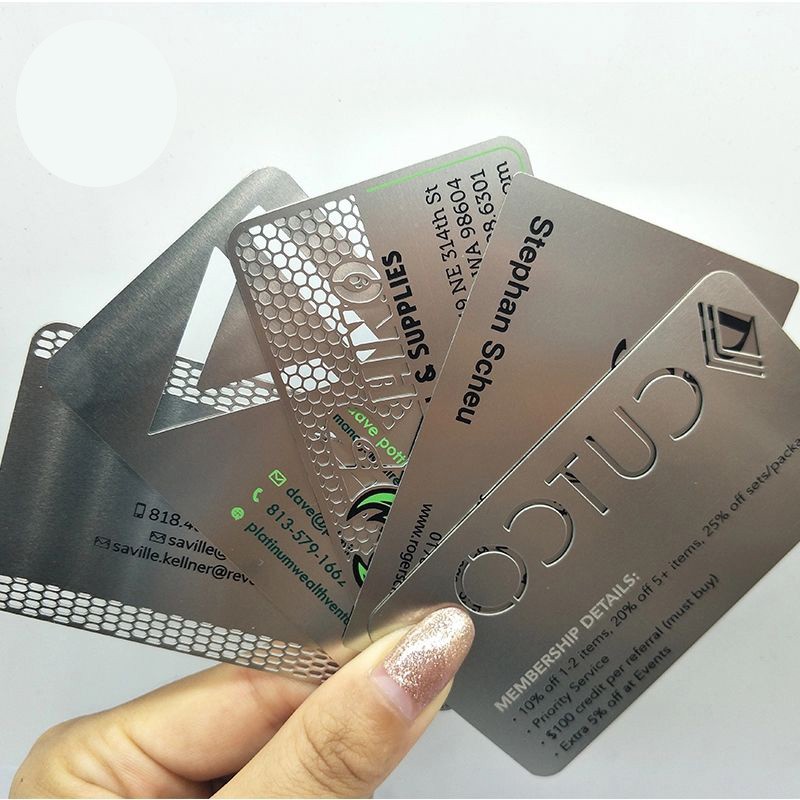 Metal business card
In business, first impressions are everything. You've got the firm handshake, the confident smile, and the eloquent elevator pitch down to a science. It's time to set yourself apart even further.
Hand them something they'll never forget: a business card made of stainless steel …if you can dream it, we can make it. That's how you'll really make your mark
We offer the widest range of metal card finishes in the market in card thicknesses ranging from 0.2mm to 0.8mm (0.008″ to 0.032″). Thicker cards are available on request.
Made from genuine stainless steel, these metal business cards capture a clean, modern feel in timeless style. And, they are custom made-to-order, just for you!
These cards are our most popular for a reason – they're cost effective, attention getting, and do one job extremely well – they make you instantly standout and leave a memorable impression. And, because they're durable and exciting, you can bet your new clients and friends will hold onto them for years to come.
The of Weight Each Card ( standard size 85*54mm/89*51mm)
Thickness(mm)
0.3
0.4
0.5
0.6
0.8
1
Weight(kg)
0.014
0.02
0.024
0.028
0.04
0.05
Experience the world's most unique and eye-catching metal business cards.  Try our Stainless Steel Cards, Black Metal Cards, Brass Finish Cards or rustic Copper Finish Business Cards.  Everything is made-to-order and backed by our 100% satisfaction guarantee!
Leave a reply